NASA Lab- 6th Grade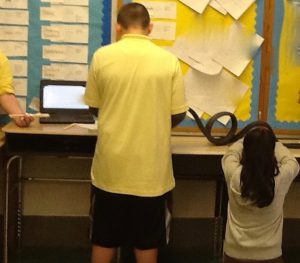 All students in 6th grade participate in additional science experiences supported by a NASA trained educator. In addition to their regular science studies students participate in a variety of STEAM activities to enhance their scientific and cross-curricular learning. Some examples of projects or examples are listed below.
Past Lab Examples:
Formation of the Earth and Moon (using clay)
Volcano formation
Strawberry DNA extraction
Astrolab (portable planetarium)
Rollercoaster design
Profile of a scientist
…And many more!